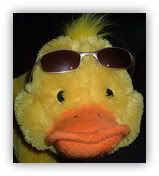 To think, a lost cell phone started it all! As the year comes to a close, Darren has presented one more group writing challenge – to review the blog year and/or preview the upcoming year.
It all began on May 28th, 2006, with The Eternal Hunt for the Cell Phone, which received so many nice comments and links that I decided to create a blog about all of Lil' Duck's adventures. Shortly thereafter, I moved my photo card business over to the same domain, which was an excellent move and has done wonders for my business traffic.
We continued the ducky love as he embarked on such adventures as decorating my computer keyboard and dumping an entire container of vegetable oil all over my carpet, Ducky and himself.
Traffic increased dramatically after hosting the Carnival of the Vanities (twice!) & playing along with the Thursday Thirteeners and it has only continued to increase at an amazing rate (who knew that the life of a little toddler was so interesting!). The business has taken off and has kept me very busy over the past few weeks with the many holiday card orders that I have filled.
I'm so excited to see what the next year will hold – for the business side of things, I'm adding many more wedding-themed products (not that I haven't been doing some already, but they will be featured as official products now), including save the date cards, thank you cards, engagement and wedding announcements & even some photo wedding invitations.
For those of you who have been reading this blog for a while, you know that I can't just leave the web design alone, I always have to be updating and tweaking it, so next year will be no exception! The tales of Lil' Duck and his beloved stuffed ducks will continue, as well as building the toddler advice/ideas sections into greater resources for parents. I hope to have more time to review products and even some books next year, something about which I receive requests all the time but rarely actually have time to read, much less review on the blog.