We have shopping issues. Lil' Duck loves the idea of going out, and will hold my hand and walk into the store nicely. Then the problem begins. He wants to run like a crazy baby away from me and play this great game of keep-away, and I want him in the cart so that he doesn't do that. So, I get out his nice cart cover, set his beloved duck in there (oh yes, the duck does go everywhere), and arm-wrestle him into the seat.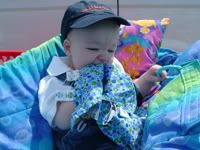 When Lil' Duck was just starting to sit up, we got this handmade cart cover from a friend. It has a pocket in front of him with his name on it, a few toy loops, a cute little pillow (with a loop to attach it) and a drink holder. It stretches to fit any cart, high chair, etc. – when it gets dirty, we toss it in the washer and dryer, and it is good as new. Now, after 18 months or so of heavy use, it still looks great. I even got an extra pocket in case we have another one, so we can put their name on it rather than my little guy's.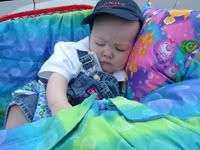 As you can tell, these photos are from when we first got it – he actually loved the pillow so much that he would fall asleep on it! Now we don't use the pillow, as there is no way he'd sleep if there was something interesting to see.
Anyway, this thing is the best invention ever (well, that and my sling ;)) – keeps him away from germs, keeps him comfy (did I mention it is padded?), keeps his toys and food near, and is easy to use! That's what works for us….. if you need one, e-mail her for fabric samples (pretty much anything you want) and pricing and all that. It's well worth it!