Thirteen forbidden items that the little guy "discovered"
while exploring the countertops & drawers yesterday: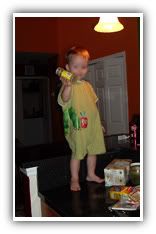 My brand-new bottle of purple nail polish.
A whole box of plastic wrap, which he proceeded to unwrap while whispering "wow, wow mama".
All our return address stickers, which are now decorating my kitchen cabinets and countertops.
A once-full bottle of Mrs. Dash, seen in the photo, now spicing up my cabinets.
The small ironing board, which was promptly launched off the top of the cabinets to his great delight.
My purse and all its contents, which were taken to the far reaches of my house with great delight.
A container of A&D diaper ointment, which is apparently great fun to open and smear all over yourself and your surroundings, at least if you are a baby.
Every single item in my silverware drawer (the sharp objects have been residing on top of my fridge for some time now), which must be arranged into categories, then dumped all over the floor.
All the pens, pencils, and markers that were on a high shelf over the countertops – they were used to "decorate" every item inside my purse as well as any and all receipts and bills that happened to be on said counter.
Daddy's work ties, abandoned on the counter as well, which are great for trying on (though he did look cute….).
The lone candle that still exists in our house – apparently it needed to be shredded with baby fingernails, as wax is such a pleasant fingernail cleanser….
The forgotten chocolate bar in the drawer…. no longer forgotten.
The hanging lights over my breakfast bar – they offer a satisfying amount of motion when swatted by a curious arm, and continue to do so even after I hear "hot, mama, hot" – I'd think once would be enough to learn that lesson…..