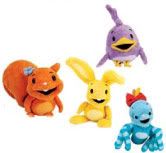 Speaking of great birthday presents, Lil' Duck got a fun product to review this past week. Leapfrog's PR firm sent us their new product, Little Leaps Grow-with-me Learning System
, along with a bunch of DVD learning discs and a few stuffed animals (who were quickly initiated into toddler-land with several markers and some stray Vapo-rub).
Speaking of those stuffed creatures, they ARE washable, as we quickly discovered ;). They are soft and cute, and sturdy enough to withstand flying across the living room and being mashed into trucks with hundreds of other toys.
The main thing itself can best be described as a baby Playstation controller that flips (see the photo). It has cool buttons on the baby side and a nice joystick and buttons on the toddler side.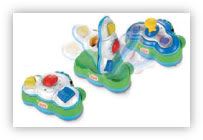 It's a little back-heavy with the batteries, but if you actually set the thing down on a coffee table rather than trying to balance it on your lap along with a toddler, a duck, a stuffed Clifford, and ten other items of interest, it would certainly refrain from doing back-flips off your knees.
As soon as I got this controller out of the box, Lil' Duck was yelling at me that, "wow, mama, MINE, wow, wow, WOW!!!" – he wanted it ;). He didn't even know yet that it controlled something on the TV. Now, trying to pair this thing up with my Playstation 2 (works with almost any DVD player, not just playstations) with Lil' Duck pushing all the buttons and trying to claim it as his own…..
Honestly, it is easy to pair, it has simple instructions, takes only a few minutes, definitely not hard or anything that any mom couldn't handle. I'd recommend doing it if your little one ever sleeps though, just for avoidance of that long battle ;). Once you set it up initially, all you have to do is push a button each time you put in a DVD to pair it up again. For an impatient toddler, it's hard to convince him to WAIT while you hold the thing down, circle it around in the air, and generally convince it to pair, but sometimes it pairs up right away, so who knows.
Now, I did have some technical issues with the DVD's themselves – one of them refuses to work after about halfway thru the thing, no matter what I do, and another just won't work, gives me errors, despite them quickly sending me a replacement (thinking it was just the one disc). It's a brand-new product, so I expect they'll have those bugs out soon, and it could just be my DVD players too, who knows.
For all the DVD's that do work, we had a blast! Since he's never played with a controller before, he does better with the baby games than with the toddler game – the concept of moving the joystick side to side and up and down to select certain animals is just beyond him, but he's just barely two and it is recommended for 2 and up. I imagine he'll get the hang of it within a month.
Do beware that for some reason, even though we didn't pair it with the DVD player in our other room, it is able to control any DVD like a regular controller or remote, so if they are just playing around with the controller while you are trying to watch a movie, you'll have to remove the batteries or banish it ;).
He loves all the animals and the actors in these, he is always telling me about the bunny or asking to play "bounce" with the mommy and daddy and baby. When he asks to play it instead of watching his beloved Clifford and Backyardigans shows, you know it's a great thing!
I wish we'd had it sooner, as I know he would have loved watching this from about 6 months on, and he would have gotten the hang of the baby button-pushing DVD's about a year ago at the latest. It's definitely something that will last for a few years (still works in spite of being smashed on the concrete outside, actually, altho I didn't purposely test it for durability and I'm sure that Leapfrog doesn't recommend doing that ;)), I can't say that about most of the technological toys on the market, especially at this (affordable, in my opinion) price.
I was just on their website and it looks like they have the live product demo up and running, so go check it out, I'd definitely recommend this and I'm so glad that we got to review it!